Diving Sites in the Philippines – Having more than 7100 islands, the Philippines is legitimately called the "Asia's Beach Capital". The tropical climate, cozy and warm water, huge coral reefs as well as mind-blowingly stunning wildlife make the country a paradise for scuba divers. With over 1200 marine life varieties, plus more likely patiently waiting to be found, the underwater environment can be the epicenter of marine bio-diversity.
Diving Sites in the Philippines – In some resorts, coast diving upon the house reef is well-known, however divers also can hop on daily boat or live aboard to get into the large reef walls as well as atolls offshore. One can discover underwater adventure as well as experience, like interactions along with dugongs or even monitoring the thresher shark.
If you love diving, the Philippines has so much to offer that  suits all levels of dive expertise and interest.
Here are the top 10 diving sites in the Philippines that you should visit;
1. Anilao, Batangas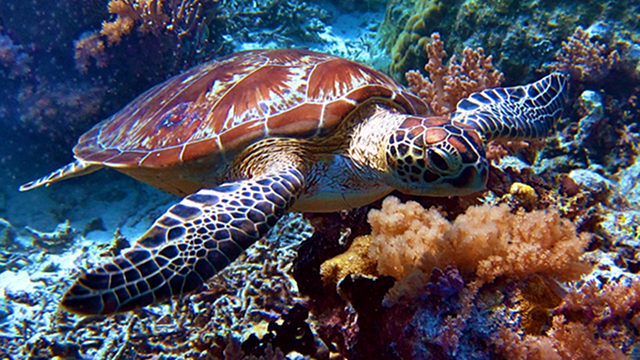 Anilao is a protected marine sanctuary. The NGO's and the local government of Mabini as well as Tingloy set an effort together to make a CRM Board or Coastal Resource Marine Board in order to chase out various activities regarding illegal fishing particularly on diving sites and also by preserving good balance and guarding the various coral species from the anchoring banca boats damage and to teach local community in a variety of methods for protecting this wonderful location.
Anilao is situated in the island of south of Luzon and it is roughly 140 km. far from Manila or perhaps 2.5 up to 3 hours simply by car in the normal traffic situation. Presently, Anilao has over 40 diving sites with approximately five to ten minutes away or thirty minutes far from any resorts. The place has a wide selection of diving options, from beginners to instructors which you could discover diverse varieties of corals, large pelagic fish or even unique critters in which on each dive you'll certainly be contented.
Sign up to GET Regular Tips & Updates - enter your email below
2. Malapascua
The initial picture of Malapascua offers to visitors that will stay for a longer time includes an extremely beautiful pristine length of white sand, very clear waters surrounded by coconut trees along with a number of scattered, native resorts. However, that has transformed over time as the amount of visitors are growing. A lot more concrete hotels are springing up, changing the native-style lodges.
Malapascua is a small, charming island near the northern part of Cebu Island. One can stroll around this island in just an hour or maybe enjoy the white sands of the beautiful Bounty Beach. With this magical island, one can capture a glance of the evasive thresher shark located at Shark Point, among the several locations in the planet where you can find regular viewings of all these shy and strange creatures. Become stunned by the various colours of the mandarin fish on the evening dive and also get your camera ready for the close up encounter with the pygmy seahorse only at Gato Island. Having excellent wreck dives such as the Donna Marilyn as well as idyllic day trips. This diving destination will not neglect to inspire.
If you're thinking of diving, consider Malapascua your first choice.
3. Dumaguete
Found on the south-eastern  part of Negros, Dumaguete is known as a peaceful paradise that provides wonderful diving as well as access to a variety of other types of activities. The primary diving attraction within the area is definitely Apo Island. This island is a small marine sanctuary which is overflowing with fishes and also stunning corals. You will find 10 diving sites around the island. Each has something distinctive to offer like exciting drift dives up to gentle shallow dives over soft and hard corals.
The Dumaguete marine sanctuary provides a vast number of species of fish, crustaceans as well as nudibranch. The schools of jacks composed of more than 2,000 fish, creating this an excellent destination for both small and large marine species enthusiasts.
Apo Island is only thirty minutes boat ride from the Dumaguete resorts, as well as both Pura Vida and also Atmosphere Resort have got great home reefs.
4. Palawan
Palawan is recognized as the last Philippines frontier and is the place to find an array of magnificent scenery, which range from limestone cliffs, thermal lakes as well as underwater caves. According to Jacques Cousteau, this area of the Philippine archipelago is "the most beautiful place I ever explored." Having more than 1,700 islands, beautiful beaches, world-class diving spots and a various wildlife you'll find out the reason why.
Puerto Princesa can be home to a lot more remote and much less commercial beaches. Consider the beaches of Napsan, Nagtabon, and Marufinas in order to enjoy fine beaches as well as amazing sunsets far from the crowds.
On the northern tip of beautiful Palawan lies the Dimakya Island, in which you can witness a dugong. You can also explore the152m freighter wreck of Japan called Kyokuzan Maru, and become astonished by the degree of the spectacular drop offs as well as coral formations located at Apo Reef.
5. Alona Beach, Bohol
Alona Tropical is surely a retreat among those wanting to escape from the daily routine works. Widely enjoy a tranquil, quiet as well as exceptional stay to unwind and also wonderfully rejuvenate your soul.
It features a green as well as picturesquely landscaping garden that contributes allure to the location. The crisp and also clean breeze may openly embrace you as you get a perception of the untamed blue yonder which demonstrates the appeal of the deep aqua blue sea. You may enjoy soaking your toes towards the gentle white sand while you walk, play as well as share the enjoyment under the sun along with your loved ones or friends.
You can dine in the beach front having oriental and also continental dishes. Get a heavenly massage along the beach or perhaps in the privacy of your own cottage. You can treat yourself in variuos activities like diving, island hopping as well as countryside trip. Feel our Filipino culture that is distinctive from others – wonderful and real.
6. Apo Reef, Mindoro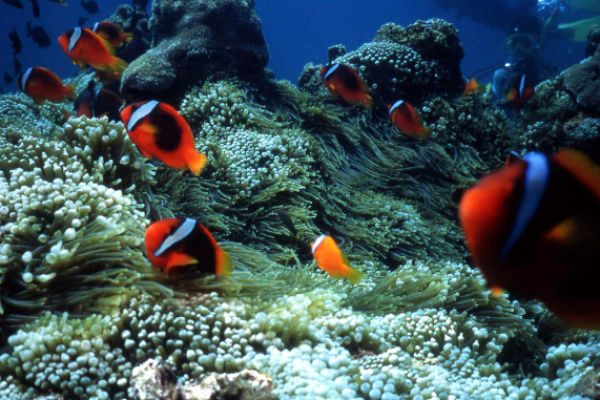 Apo Reef, Philippines is 2nd to the biggest atoll-like reef throughout the world. The flanking reefs are roughly 34 sq. km. in size including various sorts and so are inhabited by various species of fish as well as marine life.
Somel 400 varieties of coral reefs as well as 400 to 500 classes of marine animals are recorded to reside there. All these are the evidence that Apo Reef is really a wealth when it comes to the marine life plus a natural treasure to each one of us. It's no wonder many scuba divers come from all over the world only to experience the journey below.
Apo Reef National Park is situated at Occidental Mindoro. It's enclosed by 3 islands that signifies as its area; Apo Island, Apo Menor featuring its Cayos del Bajo Tinangkapang and Binangaan Island .
7. Ticao Island, Masbate
Indulge in the native exuberance of Philippine beauty by visiting the untouched and still to be discovered Philippine island. Get to the solace of nature on the island of cozy tropical waters, white sand beaches and also the shade of countless coconut trees.
Join with mother nature and become awe-stricken in its kept secret. Enjoy and dive together with the Manta Ray at the house reef, catch sight of the variety of corals as well as marine life at the center of the sea; witness the perfect cone formation of Mayon Volcano; experience local history and culture along with the tales of the residents; enhance your spirit underneath the moon while you cruise on the river layered with mangroves lighted by a huge number of fireflies within a promenade; or just surrender towards the exotic breeze as well as hear voices of nature.
Ticao Island is enclosed by numerous diving sites in which you have the selection of small or big. Several dive sites, such as the Manta Bowl, could be the cleansing as well as feeding station of the beautiful Manta Rays. Never miss the opportunity to visit the place.
8. Sarangani Bay
A feeling of discovery overwhelms a person when drawing near the eastern municipalities of Malapatan, Alabel and Glan, that face the calm waters of beautiful Sarangani Bay. The towns have wonderfully preserved beaches with protective coves, as well as shipwreck dive sites going back to Spanish period. The bay is popularly considered to be the home of the famous Sarangani Bay bangus or milkfish.
Many local tourists visit Sarangani Bay due to the beautiful as well as fine white-sand beaches, clean as well as attractive with marvelous beach resorts, pristine coves, rock formations and also mythical caves. These beaches are unspoiled, uncontaminated, uncrowded and among of the several hidden places that have fled from the grip of huge tourism. It's an excellent place for swimming, playing games and various sports. One can spend more time with friends and family and revel in this paradise underneath the tropical sun having a warm breeze which will definitely enable you to unwind. Simply sit down and relax, inhale the fresh ocean air and enjoy watching the waves rolling towards the beach.
Sarangani Bay is probably not as luxurious being the usual tourist destinations in the Philippines, affordable prices, friendly people as well as warm hospitality can help make your stay an unforgettable as well as enjoyable experience.
9. Tubbataha Reef National Park
Tubbataha Reef is situated in the Sulu Sea, 181 km southeast of the City of Puerto Princesa City, Palawan, Philippines. This spectacular diving site was declared as a UNESCO World Heritage Site as well as a national park. It has more than 600 species of fish, 360 coral species, 11 species of shark, and also 13 species of dolphin and whale. The Tubbataha, is a valuable part of the underwater world ecology more than like a precious and excellent dive site.
The term "tubbataha" is a blend of 2 Samal words meaning "a long reef exposed at low tide". The reef is composed of 2 coral atolls split by an 8-kilometer wide channel. The Southern Atoll which is the smaller among the two is 5 kilometers long as well as 3 kilometers wide. The North Atoll which is the bigger among the 2 is 16 kilometers long as well as 5 kilometers wide.
10. Verde Island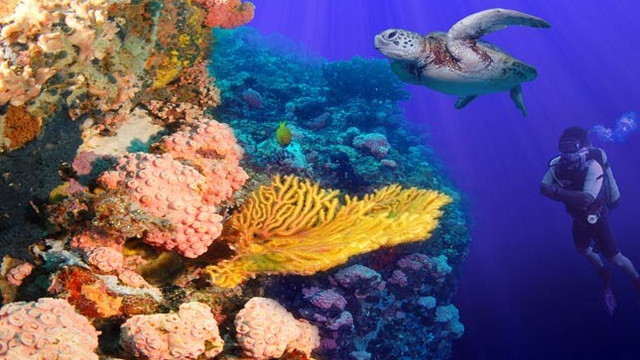 Verde Island is a 1 hour boat trip far from Puerto Galera. There are several diving sites surrounding the Island, most offer remarkable visibility and large number of marine life. The island isn't for the novice. The strong up and down current of water are common. It is most likely to visit Verde when the currents are little.
Verde Island holds a large amount of Nudibranch which competes Anilao. A large number of species are found everywhere, like the Spanish Dancer.
When you get to the edge of the pinnacle, you will find a ledge at 18m. Here, you can find the bigger inhabitants of the island and the wall ends, therefore the current increases. Don't worry, just hold on towards the ledge as well as look above at the schools of Barracuda, Tuna, and Giant Trevally playing with the current.
For more subscribe to ===>>>>
https://philippinestravelsite.com/youtube